Our events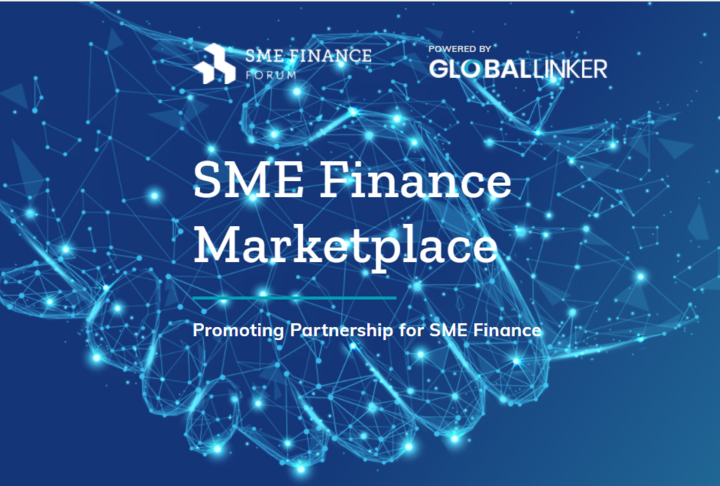 The Virtual SME Finance Marketplace, an initiative of SME Finance Forum, and a product of IFC, is an online match-making platform that promotes partnership and collaboration between financial institutions, fintech companies and development finance institutions/ investors.
IFC does not endorse any products featured on the virtual platform or endorse any views expressed by the companies featured on the platform. IFC shall have no responsibility or liability for any party's reliance on the products or views of any company featured on the site.
 
The virtual Marketplace is powered by GlobalLinker, an AI powered 'Digital Ecosystem' offering SMEs a range of services to build digital presence including e-commerce. 
 
How does the Marketplace operate?
To participate in the marketplace session, your institution must have an institutional profile (company profile) and personal profiles (individuals representing the companies) set up on the marketplace. Institutional profile shall also include products/services being offered.
Representatives of your institution can explore offerings available in the platform, such as investment products, advisory services, technology solutions...etc.
The virtual platform enables individuals to reach out to one another to discuss potential collaboration and partnership at their own convenience.  
CREATE YOUR PROFILE NOW
 
Marketplace Pitch Sessions
The marketplace sessions are scheduled monthly and feature institutions (DFIs, fintechs, investors, etc.) who present their products/services during a 7-minute pitch.
Following the presentations, participants can reach out directly to the presenters to make inquiries and explore partnership opportunities.
 
2023
November 29th - Register Now
November 1st - Register Now
October - Agrianalytica, Credable, Scope Insights, Silver Lining, Licify - Register Now
July - Air8, Builder.ai, Checkout, Fondy,Tienda Pago | Video
June - CRIF, Amartha, JUMO, Mambu, Uplinq, Linklogis | Video
May - Arara, Rise, Strands, MIB Africa, Lama | Video
April - Asaas, Finnovating, FintechOS | Video
March - Afrexim Bank, DFC, FMO, IDB Invest, IFC | Summary | Video
February - Cayesh, CIFOR-ICRAF, Silver Lining, iFarmer | Summary | Video
January - DigiAlly, Flow Global, Traction, 360tf | Summary | Video
 
2022
December - AuxCode, NowNow, Tiger Analytics, Uplinq | Summary | Video
November - AIForesee, Bankograph, JUMO | Summary | Video
October - ClickPesa, ITFC, Gojo & Company, Maalexi, FeenPop | Summary  | Video
August - WeBank, Creditinfo Group, Demyst, AECM | Summary | Video
July - BNDES, CGC-Egypt, Ecobank, FCMB, FirstBank, Standard Bank | Summary | Video
June - Access Bank, Lucy, Secure Now | Summary | Video
May - 4G Capital, AccessHolding, Banking Circle, Convergence, Development Bank of Nigeria, Fintech Group, Ontology, Tysys | Summary | Video
April - Cancelled
March - F-Road, ITC, Tugende, Zal Group | Summary | Video
February -  Asenso Finance, Fintech Group, Fyndoo, Nomanini, Rubix Data Sciences | Summary | Video
January - FINCA, REGMIFA, Lendable, Verdant Capital, IsDB, G5 Capital | Summary | Video
 
2021
November - Inddo, Inbonis, Marco, Talino Labs, Ycash, Ysys | Summary | Video
September - Bloom Impact, Bankability, CashDirector, CashNow, Vector ML Analytics | Summary | Video
August - Arctic Intelligence, Dakko, FintechOS, Kountable, Lucy, Nanopay | Summary | Video
July - Apoidea, BizCapital, Fern Software, Fidor Solutions, Rong360, Waynbo, Fintech Group | Summary | Video
April - AFREXIM Bank, CDC, DFC, FinDev Canada, IFC, FMO, ICD, PROPARCO | Summary | Video