Blog
Including Small Holder Farmers in the Value-Chain: Lessons Learnt from IFC Projects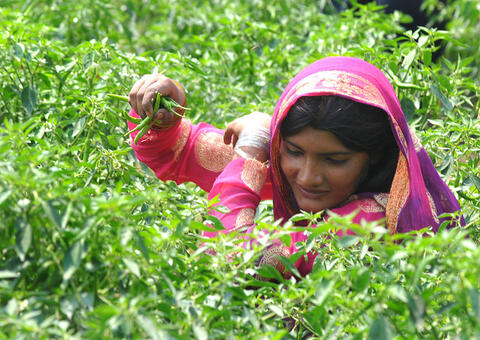 Global demand for food is expected to rise up as much as 70% by 2050. There is also an increasing demand that our food comes from sustainable and traceable sources. In order to ramp up food supply and provide higher visibility along the whole value chain, agribusinesses and food companies are increasingly looking to include small holder farmers.
Small holder farmers, particularly in developing countries, typically have low yields and less access to markets. The trend to integrate them into the value chain can create a win-win situation for all participants. It can provide the farmers better access to quality inputs, technical advice and financing as well as help them secure markets to sell their products. In addition, access to crop insurance and fixed price contracts can help them to reduce risk and encourage them to invest more.
The benefits accruing to small holder farmers can be significantly higher when they are members of well-organized producer organizations or groups of farmers. Producer organizations can improve the bargaining power of farmers in selling their crops and purchasing inputs. It can also lower costs for technical assistance and financial services.
The International Finance Corporation (IFC) views supporting small holder farmers as a means to feed the nearly one billion people in the world who go hungry today. IFC initiatives help to expand farmers' access to finance, agricultural inputs and markets.
Lessons learned from IFC projects in value chain finance include:
Small holder farmers are very heterogeneous requiring segmentation to understand the context where they operate, the risks they face, their linkages to markets, and their financial and non-financial needs.
 
It is important to align incentives as well as link various stakeholders along the value chain such as lead buying firms, farmers/producer organizations and financial institutions.

 

Financing farmers becomes more attractive when it is linked with improvements in production (through high quality inputs and technical advice), improved access to markets and training in financial and managerial capabilities. 
 
Rural & Agriculture Finance