Blog
Michael Schlein, President and CEO of Accion, on today's challenges for SMEs Financing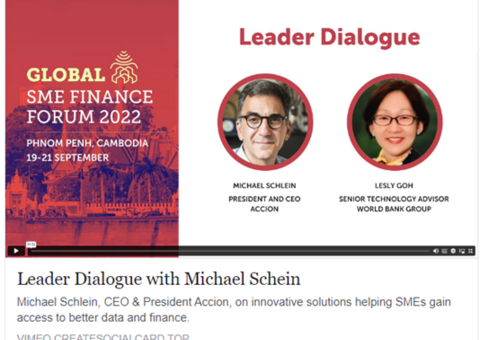 In a wide-ranging interview, Michael Schlein, President and CEO of Accion, spoke to how the world can emerge from the pandemic to build a more inclusive, resilient global society through the transformative power of innovation. "The innovation we're seeing worldwide is allowing us to consider and find new ways of financing small and medium enterprises," Schlein said. Filmed during the 2022 Harnessing Digitalization for Sustainable and Inclusive SME Finance Forum in Cambodia, this Leader Dialogue was facilitated by Lesley Goh, Senior Technology Advisor at the World Bank Group.
Challenges and opportunities
Schlein set the current global scene, noting that the greatest reduction in poverty in human history has occurred over the last several decades, but that progress has gone backwards since the pandemic. Because of these regressive trends, Schlein noted that the work that IFC, Accion, and members of the SME Forum do "is more urgent today than ever before."
While poverty has gotten worse, Schlein noted that digital acceptance had rapidly accelerated. "This is a once in a lifetime moment," Schlein said, "Our work is more necessary than ever and the opportunity is greater than ever." Schlein believes the world can emerge from the pandemic to build a more inclusive, resilient society than ever before.

The transformative power of innovation
While current challenges are great, Schlein voiced his optimism. "The innovation we're seeing around the world is allowing us to consider and find new ways of financing small and medium enterprises." Schlein noted that, as people start to use digital payments, that history can be used to make lending decisions. "I think this technical revolution we're living in can make this segment visible in a way in which until now it's been invisible."
Schlein offered two examples of companies transforming how SMEs run their businesses. The first, Lydia, is the fastest growing small business lender in Nigeria. "Lydia provides free electronic invoices to small mom and pop shops, digitizes them, and learns from the data." The second, Field, lends to small Kenyan mom and pop pharmacies and uses AI to predict what drugs need to be on their shelves. With a network of several thousand small pharmacies, Field can see trends that no individual shop can see. "By using Field, [SMEs] can increase their revenues by 40% and essentially only have to pay for the goods they sell," Schlein noted. "This is a perfect example of how modern technology can really change how we reach small businesses."

The challenge of lending to SMEs
SME financing has historically been challenging, with many banks required to lend to SMEs but still not doing so. In response to what policy makers and regulators can do, Schlein praised The Reserve Bank of India for leading the way and transforming financial inclusion. Specific innovations that Schlein noted that were game-changers for financial access included the Unique Identification Authority of India (UIDAI) universal ID system and the Unified Payments Interface (UPI) payments infrastructure.

The potential of AgTech
Smallholder farmers make up a significant percentage of the global poor, but Schlein expressed optimism about the potential of AgTech. While smallholder farms have historically been difficult for banks to lend to, Schlein said, "We are seeing spectacular innovation finding new ways to reach very remote, very small, single family, smallholder farmers."
Two AgTech companies that Schlein highlighted, both based in Kenya, were Pula and Apollo Agriculture. Both companies leverage data to help smallholder farmers, with Pula focusing on insurance and Apollo Agriculture focusing on credit. "Pula can see when there's a drought, or a flood, can monitor soil conditions, monitor cloud coverage, provide agronomic advice, and they can provide all that in a cost-efficient way," Schlein said.
Schlein also noted there are companies, like Agrim, creating a whole market place around the needs of the full farm sector. "Imagine in one place getting all the seeds and fertilizers that you need and also being able to sell your produce," Schlein said. "Once you have visibility to that whole ecosystem," Schlein added, "then you can finance every single part of it."
In the past, Schlein noted there was little investment in AgTech in the microfinance and Fintech sectors. Over the last five years, however, investment has greatly increased. Schlein credited this phenomenon to exciting innovations in the sector, including "clever uses of data, data analytics, AI, and satellite imagery," which he noted "are all solving needs that are enormously important to tackle."

Moving Forward
Moving forward, Schlein is mostly excited about SME financing and how innovation can be leveraged in ways to reach small businesses. "We're coming out of the pandemic, and there's an enormous opportunity to leverage this new digital acceptance and innovation and reach people we haven't reached before."
Schlein voiced concerns, however, concerning the increasing power of algorithms to drive people's lives. While these algorithms have positive power potential, allowing companies like Accion to lend to people better, faster and cheaper based on data and data analytics, there is also what Schlein referred to as the "dark side of algorithms"–their tendency to be exclusive at scale. As an example, Schlein noted the increasing number of companies using data on how an individual uses and recharges their cell phone as a proxy for if that person is likely to repay a loan. This policy can lead to exclusive and unintended outcomes, Schein noted, as men typically have their own cell phones while women use the family phone, which is more likely to run out of power or minutes. These algorithms consider women too risky to lend to, and thus women are being systematically excluded. "We have to get smarter about that," Schlein concluded.

About Accion
Accion is a global nonprofit committed to creating a financially inclusive world, with a trailblazing legacy in microfinance and fintech impact investing.
Learn more about the innovative companies mentioned:
About Lidya: Lidya is Finance-on-Demand, using data to identify well run businesses, offering them same-day credit, inexpensive payments and forecasting tools that help them grow faster.
About Field: Field is a technology company driven by the idea that equality and progress, growth and sustainability all start with access to healthcare.
About Pula: Pula is an agricultural insurance and technology company that designs and delivers innovative agricultural insurance and digital products to help smallholder farmers.
About Apollo Agriculture: Apollo Agriculture is a technology company based in Nairobi, Kenya that helps small-scale farmers maximize their profits.
About Agrim: Agrim is building a B2B commerce marketplace app for Agri-Inputs, which brings retailers and manufacturers together on one platform.

Watch more Leader Dialogues:
Suggested reading:
Rural & Agriculture Finance
Data Analytics
Fintech