Blog
The Importance of Going Digital for SMEs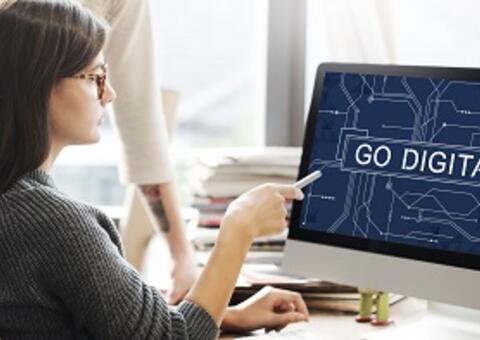 The COVID-19 pandemic is forcing businesses from retail, manufacturing and service providers to reevaluate their business models where the traditional "in-person" & "social" setting is the norm. As a result, businesses began to realize the need to incorporate a bigger portion of their business process with an innovative "contactless" method of delivering their products and services. Otherwise, they will face the alternative option of shutting down operations until the crisis is over. Given the current status of the pandemic, that is equal to a death sentence for those businesses. SMEs are no different, if not more desperate, for rethinking their business models in order to overcome the current crisis and similar future situations.
When it comes to SMEs adapting to the COVID-19 crisis, governments played an important role in supporting SMEs to weather the storm. Governments provided both swift and unprecedented support at a larger scale than in the aftermath of the 2008 financial crisis. Support came in the form of tax deferrals, direct loans and grants to support temporary redundancies, wage subsidies and assistants for reduced working hours. The logic of these measures is "give money now, verify later" which was the right approach, but SMEs must realize, these are temporary measures and a digital transformation is the key for surviving the current and future crises.
Why Go Digital?
Digitalization and digital tools have proven they can benefit SMEs. For example, a 2019 economic survey of Singapore's first quarter found that firms who are adopting digital tools increased their value by 25% and their productivity by 16% on average [1].
Additionally, digital tools can help avoid a complete economic halt for SMEs during the COVID-19 crisis. Having the ability to go digital became a matter of life and death as it was seen all over the world. Many SMEs who demonstrated their ability to change their business model survived, many others could not stay afloat.
As with every business, SMEs differ in size, industry and level of experience. No matter what the differences are, going digital is proven to be a key advantage pre and post COVID-19 crisis. Digitalization and digital tools can help SMEs reduce costs, standardize and automate business processes and reduce the reliance on manpower. Moreover, going digital will enhance SMEs competitiveness and understand consumer behaviors.
Enabling the Digitalization of SMEs
After highlighting "WHY?" SMEs need to digitally transform, a natural follow-up "HOW?" to transform effectively must be addressed to ensure continued profitability in times of economic disruption and challenges and "WHO?" are the stakeholders involved in the process.
Governments, for examples, play a major role in helping SMEs and this role starts by realizing the importance of SMEs digitalization for economic growth, job creation and productivity. Incorporating SMEs digitalization high on the policy agenda as they are a powerful game changer for the economy. It enables SMEs to transform and compete on a larger scale and reach global markets by doing business online.
Technological adoption of digital tools is especially beneficial for small and micro-businesses. However, there is a rift in digital tools adoption between large businesses and SMEs, especially in E-commerce and cloud computing. Governments can address this rift by offering SMEs skill development, organizational change and process innovation programs.
Another important role for governments is providing proper infrastructure to support B2B transactions and utilizing digital tools to improve public services like E-government portals to facilitate licenses issuance and other services to SMEs.
Similarly, large tech companies like Google and Facebook have a role to play in supporting the digitalization of SMEs. Recognizing the need of SMEs and providing digital tools and solutions like Facebook's Marketplace and Instagram to support the transfer of SMEs businesses to go online is an important factor in the continuity and survival of many SMEs.
SMEs Role In Digital Transformation
While the public and private sector have proven their importance in digitalization and adoption of digital tools for SMEs, they come in second place and in some cases last when compared to the role SMEs must embrace.
SMEs need to rethink and redesign their business with a focus on how to leverage social media, mobile connectivity, data analytics, cloud computing and incorporate these tools in their business model. The digital transformation of SMEs must be integrated into all areas of the business in order to deliver value to customers and to ensure business continuity.
SMEs digital transformation has proven to be vital long before the COVID-19 crisis and after it hit, that importance only grew stronger and clearer to insure SMEs business sustainability. It is a continuous process of challenging the current statues as technologies keep evolving and in order for SMEs to survive, they need to incorporate this process to grow and thrive.
With the development of digital economy, and current COVID-19 crisis, the future of the global economy will have everything to do with digitalization. Cutting-edge technologies such as blockchain, IoT, 5G, cloud computing, robots, AI, data science, along with the emergence of new digitalized business models, will drastically change the global economy. SMEs are a cornerstone of the economic development of most of regions of the world.
When faced with changes, SMEs should embrace digital technologies and promote digitalization. They should also learn from successful companies in M-commerce, sharing economy, IoT, NextGen innovation and other new business models and seek opportunities to increase their own added value in the wave of digitalization. SMEs should also overcome the lack of resources, lack of experience in the implementation of new technologies which will allow them to become successful and reach a wider market.
SMEs digitalization will not only improve their competitiveness, it will also benefit society as well. As the main driver of regional economic growth and innovations, SMEs' digitalization also plays a crucial part in developing an inclusive and sustainable economy. Recently, digitalization solutions have contributed greatly to the UN's sustainable development goals and reduced wealth gaps, improved gender equality and responded to climate change, giving people access to the resources necessary to their survival. As the world continues to go digital, digitalization also has much to do with the development of governments and the impact of their policies on the digitalization trend.
**Based on OECD Digital for SMEs (D4SME) Global Initiative Webinar SMEs: 'GO DIGITAL AND GO HOME' - Digital Responses to the COVID-19 Crisis
Covid-19
Digital Financial Services