Blog
Out with Old. New Ecosystem of Digital Financial Services Support SMEs Growth for SDGs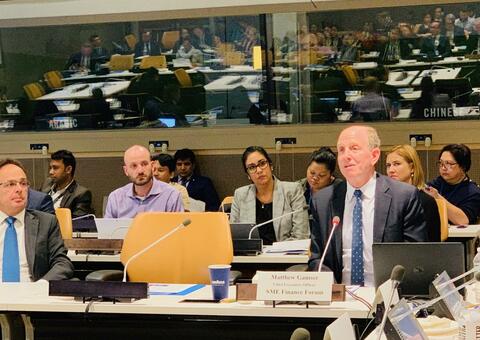 Matthew Gamser, CEO of the SME Finance Forum, was the keynote speaker at the United Nations Secretary-General's Task Force on Digital Financing of the Sustainable Development Goals (SDG). Gamser led a policy discussion on innovative mechanisms to finance MSMEs at the UN's headquarters alongside experts from Visa, Milken Institute and KIVA.
SMEs are a key driver of growth, directly affecting SDG 8, 9 and 17. Emerging markets generated more digital data than developed markets. Experts estimate that $19 trillion in cash business around the world could be converted to digital business, which is believed to be largely tied up in trade finance systems.
Gamser said old technology is hold back the progress of digital finance. In his speech, he said "The cross-border system is messed up. SWIFT – created in 1970s – still has a lot of vulnerability. Trade finance is still old and slow. Small firms are being harmed more."
However, the financial services field has some innovators who are leading a new ecosystem. Gamser mentioned how Alibaba and Ant Financial are currently using data in real-time due to AI and Machine Learning capabilities. This enables financial services providers to take a more responsible approach facilitated by our access to data. In addition, there is a new set of organizations involved include P2P SME lending, supply/trade financing, online balance sheet SME lenders and online invoice financing.
"There is still a tricky boundary between data utilization and data privacy. If we get that right, we can help those businesses," Gamser said.
Financial Education
Policy & Regulation
Credit Risk & Scoring
Payments