Our events
Open Webinar: The Future of Finance for Women SMEs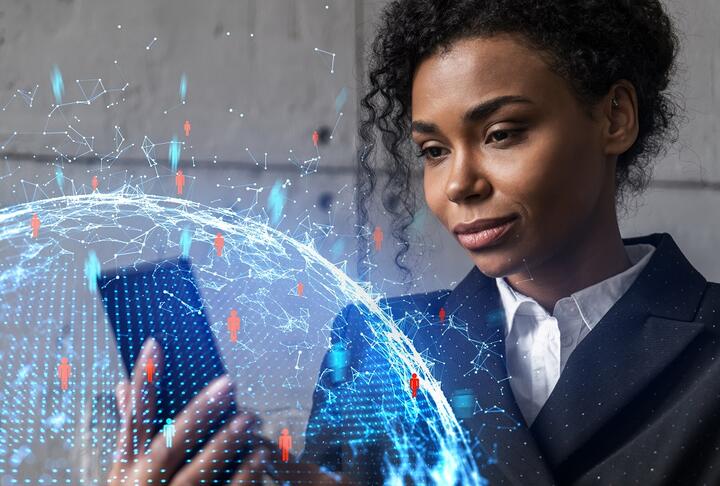 ¡Con interpretación en vivo ESPAÑOL<>ENGLISH!
Interpretation en français disponible!
С синхронным переводом АНГЛИЙСКИЙ<>РУССКИЙ
伴有同声传译。
مع ترجمة فورية بين العربية والإنجليزية
Women are a driving force for the economies in which they operate. However, women entrepreneurs face a range of financial challenges in realizing their business potential and are less likely than men to have adequate financial services.

IFC

estimates a US$1.5 trillion finance gap for women-owned micro, small and medium enterprises (MSMEs) in emerging economies. Financial institutions in Africa, Latin America, North America, the Middle East, Asia and Europe have innovated to narrow the finance gap and reach these important customer segments, using innovative products and solutions that harness technology, data, and customer-centric value propositions.
To enable the financial sector to better serve women customers including women-owned businesses,

IFC's Banking on Women (BOW)

business has developed scalable solutions with partners that involve investments, advisory services and blended finance supported by partners such as

Goldman Sachs Foundation

.
In this webinar on April 13th, 2022 at 8 am EDT, leaders and IFC partner financial institutions discuss their innovations to finance and support growth for women customers and targeted solutions in SME finance, housing finance, trade finance, and capital markets.
As of June 2021,
IFC's Banking on Women (BOW)
business has mobilized and invested over US$3 billion in financial institutions, specifically to finance women-led SMEs.
Host
Matthew Gamser, CEO, SME Finance Forum
Moderator
Colin Daley is a Global Advisory Specialist for IFC's Banking on Women business in the Financial Institutions Group. He is currently working with financial institutions in the Middle East and Africa to enhance their strategies to attract, retain and grow women customer segments and ultimately differentiate themselves in their chosen markets. He was formerly an Advisory Partner at Ernst & Young EMEIA focusing on assisting financial services institutions to derive value from specialized segments, including SMEs, Retail. Colin was previously head of the Retail Banking Customer Journey Reengineering unit at HSBC UK and has worked as a management consultant in the UK, Poland, Norway, Nigeria, Ghana, South Africa. Colin is a Doctorate Candidate (DBA) with Paris School of Business (France) and is an Alumnus of the Advance Management Programme, Lagos Business School (Nigeria) and a holds a BEng(Hons) Electronic and Electrical Engineering, from Loughborough University (UK).

Carl Wegner is the Chief Executive Officer of Contour, a network to lead a global adoption of blockchain-based trade solutions. Carl has over 30 years' experience in Asia Cash Management, Institutional Banking, Financial Supply Chain and Distributed Ledger Technology. Carl served as R3 Managing Director for Asia, where he was instrumental in the business growth and market penetration of Corda solutions with Central Banks, Financial Institutions and Corporates. Carl's prior experiences include Managing Director and Head of Global Transaction Banking, Greater China of Deutsche Bank, and Managing Director of Transaction Banking for Standard Chartered Bank in Taiwan. He was also Head of Asia for TradeCard (now GTNexus) building their network in 14 countries. Carl was named as a Top FinTech Leader at the Singapore FinTech Association (SFA) Awards 2020. He has also held the post of Treasurer at Taipei American Chamber of Commerce and is an Appointed Board Member of Taipei American School. Fluent in Mandarin, he holds a B.S. in both Chinese Language and Chinese History from Georgetown University.

Marcia Díaz is the Manager of SME Commercial Strategy at Banco Pichincha. She has more than 20 years of experience in the financial system of Ecuador handling various market segments. She currently leads the Small and Medium Enterprises team and promotes the SER#ImpulsoMujer Program, whose objective is to accompany the growth of businesses led by women through women-focused advice and financial and non-financial solutions. She holds a Master in Business Administration with a specialization in Corporate Strategy and she is a graduate of the Senior Management Program of Incae Business School.

Sarah Lubega Nansikombi is the Manager Women's Banking, Stanbic Bank Uganda, the biggest commercial bank in Uganda by Assets and branch network. She has 18 years' experience in client solutions for consumer and high net-worth, SMEs, Corporate and investment banking. She currently heads the team developing financial and non-financial solutions tailor made to women ranging from individuals, professionals, sole proprietorships, micro-SMEs, women groups and investment clubs aimed at empowering the woman, banked and non-banked. She is a Certified Financial Literacy Trainer and a member of the Board of Trustees of Stanbic Uganda Holdings Ltd Staff Provident Fund. She holds a Bachelor of Business Studies and is a graduate of the Global Leadership Centre, Sandton South Africa.