Blog
Complementing Finance with Know-How for Women in Business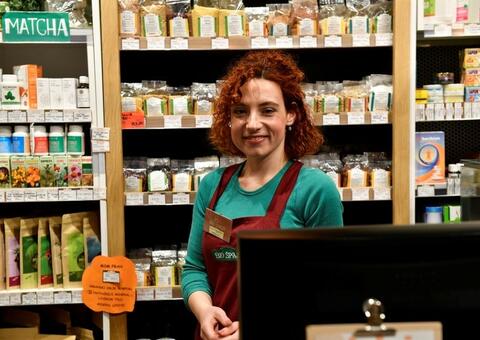 At the European Bank for Reconstruction and Development (EBRD), we believe that complex inequalities need wide-ranging responses. This is why in 2014, the EBRD launched an ambitious new approach to support the financial and economic inclusion of women. Since then, the Women in Business programme has reached more than 50,000 women entrepreneurs across 18 countries stretching from North Africa to Eastern Europe and the Caucasus, Turkey, the Western Balkans and Central Asia.
Focused around empowering women as leaders within small and medium-sized businesses, the EBRD's Women in Business programme was born of the idea that women entrepreneurs face great and well-documented challenges in accessing finance, but that there are also persistent inequalities of access to entrepreneurial and managerial training, to expertise and to experience through business networks, whether formal or informal.
Part of the EBRD's Small Business Initiative, the Women in Business programme therefore takes a holistic approach, combining areas of work the EBRD knows well – working with local financial institutions to extend access to finance and working directly with SMEs to access business advice – into a unique programme to assist women entrepreneurs in starting, running and scaling their businesses.
Bringing this kind of programme to the market is never straightforward. The most often opening statement heard from a potential partner bank to the programme is "we don't know exactly what the share of women-led businesses is in our portfolio, but we are sure that they are well-represented". They are not, but getting the data and building the business case for a strategy inside the bank to better serve women-led SMEs is a process that takes time.
Through the Women in Business programme, the EBRD has invested circa €490 million (US$ 550 million) of EBRD funds through local commercial banks and microfinance institutions for women-led SMEs, with an average of 30 percent additionally provided by the local banks themselves. More than 30 financial institutions have joined the programme, committing to better serving women entrepreneurs and receiving technical assistance to help them realise that vision. Through the EBRD's presence on the ground in every country, the programme also provides direct engagement with women entrepreneurs to access advisory services, coaching, training, mentoring and network-building activities, as well the EBRD's online self-diagnostic for women entrepreneurs, Business Lens.
In the context of International Women's Day on 8 March and the urgency of engaging the private sector to achieve Sustainable Development Goal 5, gender equality, it is also important to think about the scale of the challenge that remains.
There is of course much more to be done. The Women in Business programme is part of the EBRD's Strategy for the Promotion of Gender Equality, striving for a future where women and men, regardless of socio-economic status, have the same rights and opportunities. The EBRD leverages its investments to improve women's access also to employment, skills and services – such as by supporting women-led SMEs to access justice through a training programme for judges in Jordan.
2019 should see the Women in Business programme expand in scale, to new countries, new digital outreach models and new partners. The EBRD also backs this direct engagement with businesses with the needed support to policy activities.
Overall, we're working to build an economic ecosystem where women-led businesses can thrive – driving the growth of their whole economies.
*EBRD Women in Business programmes are active in Albania, Armenia, Azerbaijan, Belarus, Bosnia & Herzegovina, Croatia, Egypt, Georgia, Kazakhstan, Kosovo, Moldova, Montenegro, Morocco, North Macedonia, Tajikistan, Turkey, Serbia and Ukraine. These programmes are supported by over €100 million of donor funding from the European Union, Italy, Kazakhstan, Luxembourg, Sweden, Turkey, the Middle East and North Africa Transition Fund, the TaiwanBusiness-EBRD Technical Cooperation Fund, the EBRD Early Transition Countries Fund, the EBRD Small Business Impact Fund and the EBRD SEMED Multi-Donor Account.
Non Financial Services
Gender Finance
Policy & Regulation
Credit Risk & Scoring