News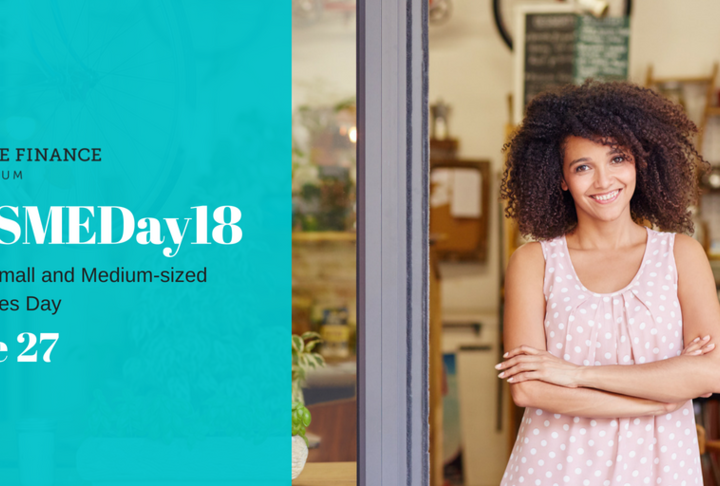 SME Finance Forum Participates in MSME Day 2018
Listed as an official resource by the United Nations, the SME Finance Forum celebrates the second annual Micro-, Small and Medium-sized Enterprises Day today, June 27. The Forum is explicitly associated with helping achieve the implementation of Sustainable Development Goals 8 (decent work and economic growth) and 9 (industry, innovation and infrastructure).
In its fifth year of operation, the SME Finance Forum continues work to expand access to finance for small and medium businesses. The Forum now operates a global membership network that brings together more than 140 financial institutions, technology companies, and development finance institutions to share knowledge, spur innovation, and promote the growth of SMEs. Read more about our work in our Annual Report.
Although MSMEs generate the most new jobs, they face many challenges in day-to-day operations and to grow. Access to finance is often cited as one of the primary obstacles that affect MSMEs disproportionately. According to the World Bank, there are 200 to 245 million formal and informal enterprises that do not have a loan or overdraft, but are in need of one, or do have a loan but still find access to finance as a constraint. More than 90 percent are MSMEs.
Here are some facts from the SME Finance Forum's MSME Finance Gap Report:
MSME finance gap in developing countries is estimated to be $5.2 trillion - 1.4 times the current level of MSME lending
Women-owned businesses comprise 28% of MSMEs and account for 32% of the MSME finance gap
65 million or 40% of formal MSMEs in developing countries have unmet financing needs
Our Alternative Data Transforming SME Finance report focuses exclusively on the opportunities in digital SME data under-pinning SME lending that is largely unsecured or secured by assets other than real estate — and the kinds of SME digital lending platforms which are using it.
In addition, the Forum's learning opportunities expand beyond its member network to include more than 10,000 members in the SME Finance Forum LinkedIn discussion group and 3,500 publications, tools, videos and SME data in its extensive online library. The Forum also invites innovative fintechs serving SME clients to demo their products and services while also organizes B2B Marketplace sessions during its conferences.
Last month, 370+ attendees from 170+ institutions meet in Nairobi to target solutions to Africa's $331 billion SME finance gap. See what we learned at the Africa SME Finance Forum.
Join us in reaching the informal November 5-7 in Madrid, Spain as we explore the role of finance in improving the growth and productivity of SMEs at the Global SME Finance Forum 2018.
The Global SME Finance Awards will recognize outstanding achievements of financial institutions and fintech companies in delivering exceptional products and services to their SME clients. Nominate and/or apply by July 13.
The SME Finance Forum will continue to celebrate the day through its social media pages. Follow @SMEFinanceForum on Twitter, use the hashtag #MSMEDay18 and join our Linkedin group to stay updated.