News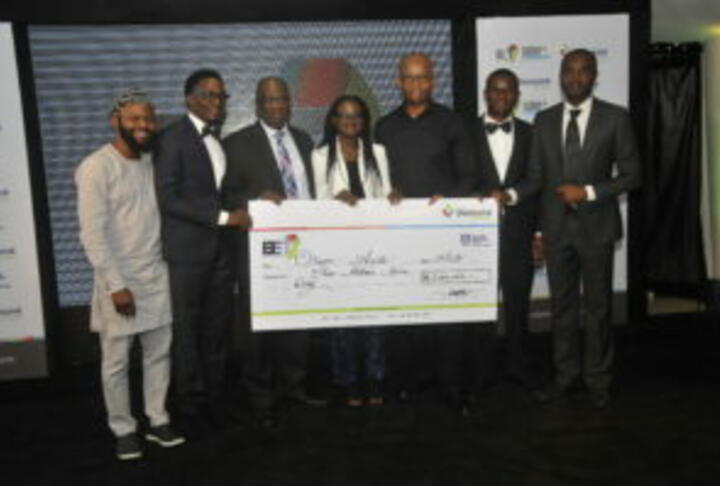 Member News: Diamond Bank Rewards Five Entrepreneurs with N15m to Strengthen SMEs Development
Leading retail bank, Diamond Bank Plc has once again demonstrated its passion for supporting small businesses by rewarding finalists of the seventh season of the Building Entrepreneurs Today (BET) programme with N15million grant.
Ikenna Ubah, Tope Alake, Jumoke Dada, Bayo Ojelabi and Osagie Azeta emerged winners of the grants having displayed exceptional skills and productive business ideas after six months of entrepreneurship training.
The BET programme, which is the Bank's flagship Corporate Sustainability project, is run in partnership with the Enterprise Development Centre (EDC) of the Pan Atlantic University and has catered to over 350 entrepreneurs since inception in 2011.
Speaking at the BET 7 dinner and award ceremony held in Lagos on Tuesday, 26 June 2018, Uzoma Dozie, CEO of Diamond Bank said that the program is aimed at inspiring, encouraging, mentoring and supporting budding entrepreneurs with basic skills required to _DSC3690build, grow and manage a business.
He stated that BET 7, with the theme, "Innovation and Social Impact", is aimed at taking the programme beyond the classrooms by leveraging technology to share the experiences of the young entrepreneurs who have passed through the BET program with the world to inspire, motivate and challenge other entrepreneurs in Nigeria to be innovative and creative.
Peter Bamkole, the Director of the EDC said that the centre has been a technical partner of Diamond Bank since the inception of the BET program seven years ago, emphasising that the EDC was responsible for the conceptualization as well as the implementation of the entire project from the selection of candidates till the final stages where the winners emerged.
On the impact of the EDC/ Diamond Bank Partnership, Bamkole said, "Diamond Bank understands that the basic challenges of potential entrepreneurs do not end with funding and mentorship. The Bank has therefore gone further to train the entrepreneurs on the basics of growing, managing and sustaining a business as well as giving them acce_DSC3754ss to grants in finance and candid advice. Grooming 50 smart young business people every year would definitely contribute positively to the economy of the Nation by spinning the wheel of a positive change."
Chioma Afe, Head, Corporate Communications, Diamond Bank Plc said that apart from the over One hundred and Five million (N105,000,000) cash prizes given out to the top five winners of the BET over the past seven years, the Bank has also helped reduce unemployment in the nation by grooming strong businesses that create employment. She further said that the students of the program not only gained from the lectures at EDC but also had opportunity to access grants from international bodies like the Women's World Banking (WWB) and were also assigned relationship executives to provide special guidance and constant checks and counselling.
Giving guidelines to small business owners interested in participating in the soon-to-be launched BET Season 8, Chioma said, "Prospective candidates must have a viable business idea prior to the application date. At the end of the initial screening, 50 shortlisted candidates will undergo a six months training programme at the Pan Atlantic University's Entrepreneurial Development Centre. At the completion of the training programme, the best 15 candidates would be selected to undergo a second phase of advisory services where they will be required to present their business models. At the end of the process, the five participants who are adjudged to have the best plans will receive a grant of N3 million each from Diamond Bank to support their businesses."